---
FollowMe will make your flying life easier. We have a perfect solution for you and also your family and friends.
It is the must have companion for you as a crewmember. Check out what we offer below.
Your family should install the app if you'd like them being a part of your journey while you work.
---
Share your roster with your family and compare it with crew friends.
No one can view your roster without your permission.
---
This is what the detail view looks like. You can view your friends' flight plans like this. Your family can view your flight plan this way.
Real-time data for Lufthansa, Swiss, AUA, Eurowings, Edelweiss
Different time settings possible
In this overview you see all your flying friends. Your family friends do not have this view. They just see your plan.
One click to the detail view
---
---
In this view you can compare all the plans of your friends and thus quickly identify e.g. days off together.
Fast comparison possibility
Click to view rotation details
Your flights in a statistic for you and your friends. You in turn can view statistics not only from you but also from your friends.
Statistics of your flights
Statistics from your friends
Disable sharing of statistics
---
Import and share duty rosters
Answers to typical questions
---
The tax duty roster evaluation was created in close cooperation with our partner EK Kanzlei from Stuttgart.
The EK law firm from Stuttgart has developed the very first duty roster evaluation ever and thus has many years of experience in this field.
The firm specializes in tax consulting for pilots and flight attendants and is one of Germany's leading providers in this field
.
We are more than just four copilots behind FollowMe who can program. And with EK Kanzlei we have just the right partner for tax related matters.
Our team includes the following university degrees: Master of Science in Banking and Financial Management, Master of Science in Computer Science, Bachelor of Arts in Banking and Finance, Bachelor of Arts in Business Administration
---
Simply save taxes
Now you can evaluate your rosters for tax purposes directly in FollowMe and save taxes easily.

This includes the additional expenses for meals, the distance allowance, tips and cleaning costs.

We have made the evaluation as easy as possible for you. You can enter all data directly in the app and, if you want, change everything manually.

No matter if you shuttle or not, you can save a lot of money with our tax analysis.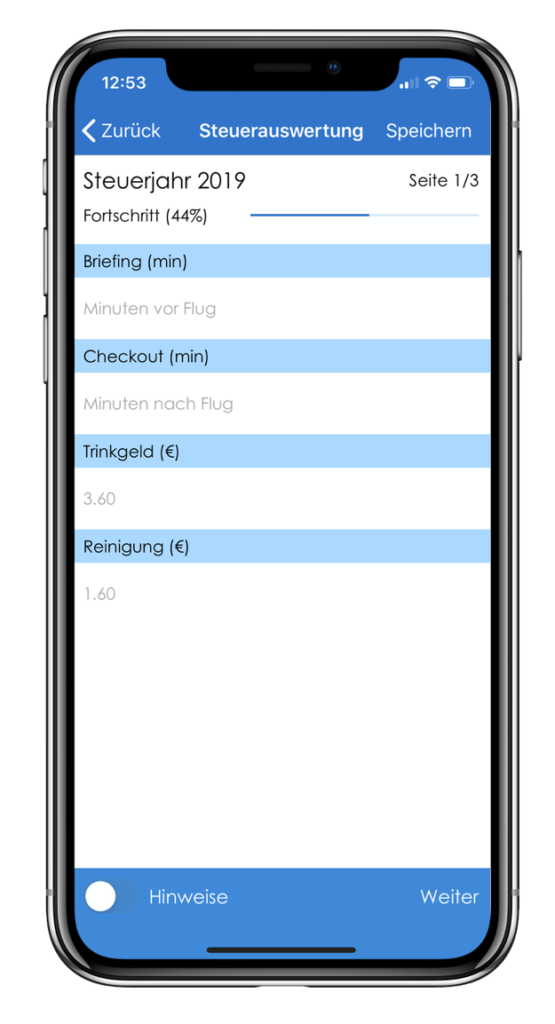 Directly in the app
The tax evaluation is easily done directly in the app
Result per pdf
From your input we create a PDF report, which you can then transfer to your tax declaration form
Save taxes.
Answers to typical questions
Realtime information for all Lufthansa Group flights
Your tour ends 2h too late? You land at an alternate airport? You are in layover, your inbound flight is 1h late?
We link your duty roster with real-time information of your flights for you and your family.
For important information about your flight we send you or your family a message (push message)
In the app you can also control whether you want to receive messages about flights of your friends.
you are back on time
Your family will receive a message about the status of your last flight of a tour and thus know if you are back on time.
You are in the layover. Your inbound flight is late
Do you know it? You sit in your hotel room, get ready for the pickup and wonder if the plane will arrive on time? We automatically send you a message and inform you about it.
A flight of yours is cancelled
We will inform you and your relatives if a flight is cancelled.
YOU LAND AT THE ALTERNATE AIRPORT
Unfortunately not everything always goes according to plan. We will inform your family and friends if you land at an alternate airport
Integrated in the normal subscription

Real-time messages are integrated into your normal subscription

Free of charge for your family

Real-time messages are free for your family

For all Lufthansa Group flights

Real-time for all LH, LX, OS, EW, LHC, LHG Flights

Messages individually adjustable

In the app you can choose for whom you want to receive messages

Real-time information also in the app

In addition to the messages, real-time information is also available in the app
More questions?

Visit our support page for more FAQs or contact us directly
Start now. FollowMe is free for 14 days
And alwaysfor your family
Real-time information about your friends flights
Real-time messages of the flights
Real-time info about your flights
Same as the Import subscription
Save taxes with a tax evaluation
If you have any questions about pricing, we are here for you!